Why select a Martinson Baton?
100% handcrafted in Alaska.
Perfectly balanced.
Wood handles made from beautiful exotic wood.
Six coats of acrylic finish to all handles.
Replacement for any reason within six months of purchase.
Free clear plastic baton case.
Shipped quickly—batons are usually put in the mail the day they are ordered.
About Our Batons
Each baton is carefully crafted to be a beautiful, light weight and durable instrument. Upon completion, each baton is thoroughly inspected, ensuring that each customer only receives a flawless, perfectly balanced baton.
Beauty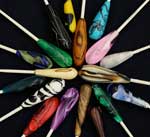 The wood handles of Martinson Batons are chosen from some of the most beautiful exotic hardwoods in the world. Each handle is buffed to a mirror–like finish, then given a minimum of six layers of acrylic coating to enhance its beauty and strength. Handles made from Acrylic are shaped and buffed to an extreme sheen which can create a beautiful translucent appearance.
Weight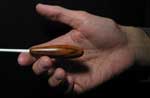 All shafts are made from light weight, white fiberglass and tapered by hand on a lathe. Martinson Batons never adds weights to the handle to achieve balance, which would be contrary to the purpose of a light–weight feel. Instead, each shaft is carefully sized and placed for balance. The balance point for most batons is the on the fiberglass shaft just in front of the handle. Some baton handles are shaped with a small bulb near the shaft. These batons are balanced just behind the bulb.
Length
Batons range from 9 inches to 19 inches in length. These measurements are accurate to 1/8 of an inch. The length of a baton incudes the handle and the shaft.
Durability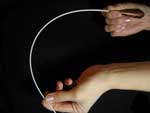 Martinson Batons undergo a rigorous finishing process. A finish is evenly spread onto the wood handles and cured with extreme heat. This creates a protective coating and makes for a beautiful and durable baton. But that's not all. This process is repeated at least six times over for a finish that feels warm and smooth to the hand.
Guaranteed
Our goal at Martinson Batons is to maintain the highest standard in the industry. Every baton is closely inspected as it is made to ensure that nothing less than perfect leaves the shop.
If you are not satisfied for any reason, please let us know! We will gladly replace your baton with another of your choosing. That's why Martinson Batons is quickly becoming the favorite among conductors in schools as well as on the professional stage!